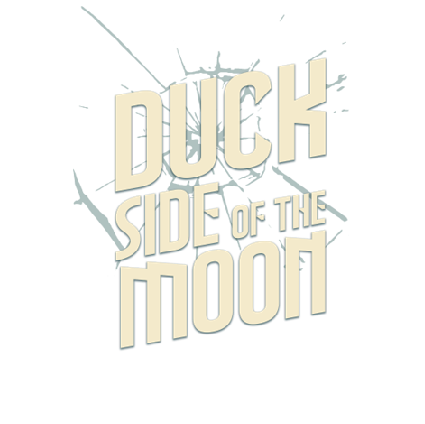 Duckside of the Moon
Release Notes Build V0.1 - 25/05/2022
---
Key Changes:
POI's:
Multiple points of interest are now located in space which will offer unique challenges and upgrades in the future. Additionally, Geysers & Exploding Hazards have been added to keep the player on their toes.


UI Polish & Onboarding:
The player is now introduced to game systems on starting a playthrough. Further additions to UI have been made like tooltips, gear visibility, sound feedback, warnings, etc. On top of that a save system, main menu & pause menu have been added.


Spaceship Models:
The spaceship is now starting to feel more alive thanks to numerous models for the fabricator, storage, plant props, arches, etc.


Doug Changes:
Doug has received new textures & an updated rig. Furthermore, new walking, idle & flying animations have been added.
Known Issues / Bugs:
Hatch stays locked when saving & having completed the tutorial
Tooltip for controller stays on screen when pressing Y to close UI
Crafting Slots don't close crafting menu when pressing TAB
Controller Tooltip can stick to left top of screen
Pick-Up Button Prompt names differ from tooltip names
Walking slowly on controller will make walking animation play too fast
Tooltip of Iron Bar goes off screen
Asteroid rotation is jittery
Change List:
UI/UX & Onboarding:

Added controller Support for Gameplay & UI
Added warning indications for oxygen, food & health
Added booster indication on boosting
Added Saving & Loading System
Added Item Pop-Up's on collection
Added Onboarding Tutorial
Added Tooltips for items
Added Main Menu
Added Pause Menu
Added Button Prompts for interaction & tutorials
Added seeing gear in inventory ui
Added intro cinematic
Added custom duck feet cursor



Animations:

Updated Doug Rig
Added Doug Walk Idle Animation
Added Doug Fly Idle Animation
Added Doug Walking Animation
Added Doug Stop Walking Animation
Added Doug Flying Animation
Added leaning animation

Models:

Added new Asteroid meshes
Added new Doug mesh
Added storage model
Added fabricator model
Added Arches model
Added rock pillar models
Added Racoon / Jerry Mesh
Added Numerous Ship Decoration Props
Added Crystal Static Meshes

VFX:

Added Slime VFX
Added Radiation VFX
Added crystal VFX
Added Cold VFX



Sound:

Added opening inventory sound
Added selecting crafting category sound
Added crafting something sound
Added eating sound
Added health depleting sound
Added oxygen warning sounds
Added food low sounds
Added duck step sounds



Gameplay Features:

Added exploding Hazards
Added Geysers
Added Radiation Zones
Added Slime Planet Point of Interest
Added Crystal Planet Point of Interest
Added Suit Upgrades
Added ability to get launched from the airlock



Performance:

Optimized lighting render times
Optimized Asteroids
Updated Mineral Generation
Improved Lighting in ship
Files
duckside-of-the-moon-win.zip
359 MB