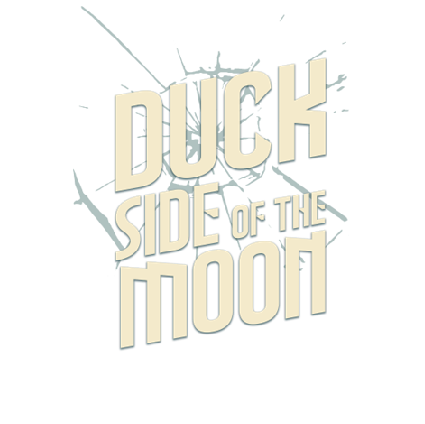 Duckside of the Moon
Release Notes Build V0.4 - 23/06/2022
---
Key Changes:
UI Visual Overhaul: Most UI has been visually overhauled to fit the theme. Furthermore, some feedback has improved to make aspects like crafting & quests more noticeable.
Characters: Jerry has finally been added in the game as the mysterious lifeform Doug will meet. Doug has also received his new model along with new animations for his gadgets (Mining Laser & Booster).
Spaceship: The interior is now fully decorated. Most materials & colours have been added as well as multiple decorations to make the spaceship feel more alive. The exterior for the spaceship has also been added.
Lighting: The lighting has been revamped. We now have special lighting set-up's for each different biomes, furthermore god rays, post-processing effects & fog have been added.
Known Issues / Bugs:
Jerry is not in his spot on the Radiation Zone
Settings Menu Return button stays highlighted after being pressed once
Settings Menu Controls options have sliders that do nothing
Change List:
UI/ UX & Onboarding:

Added Credits
Added Button Prompts showing how to exit Storage & Inventory UI
Added new textbox visuals
Added new textboxes upon unlocking a recipe
Added new textboxes upon crafting a recipe
Added help button when interacting with crafting or inventory menu
Added Text feedback saying "Crafted" when an item is crafted
Added Checkmark feedback when everything in a category has been crafted
Fixed Diagetic Crafting text for extended fabricator not working
Added description to locked recipes
Revamped Storage & Inventory to fit Visual Style
Added I input for opening inventory
Added New quests teaching how to consume food
Added New quest for crafting ducktape
Added new quest for unlocking radiation suit
Added functionality for pick-up button prompts to all doors, oxygen plants & outcrops
Fixed intro cinematic sometimes not rotating the camera
Changed Settings Menu to fit with visual style
Revamped Quest System to fit with visual style
Added animations to the Quest System to make it more noticeable
Added new Food & Oxygen Warnings
Removed Skip tutorial button from pause menu
Added new Mining Cursor
Added new Cursor



Characters:

Added Jerry Idle & Dancing Animation

Added Jerry Dialog System
Added New Doug Model
Added Animations for Mining Laser
Added Animations for Booster appearing
Tweaked Booster VFX to stick to character
Added sound for when Jerry Talks
Spaceship:

Fixed Items not having gravity
Added Heal VFX
Added Spaceship colors & materials for all walls & floors in the spaceship
Adjusted Spaceship lighting
Added Music to the Greenhouse
Added Rubber Ducks
Added Space Helmet decorations
Added Pipe Props o Added ramp for entering hatch
Added Decals for All Sections of the Spaceship
Added Exterior of Spaceship



Level Elements:

Updated Meshes for resources (when collecting or dropping)
Added new rubber model
Added new insulating slime model
Added Icycles
Revamped outcrop base mesh
Added small flag to Jerry's hideouts
Adjusted Outdoor space lighting
Adjusted POI's Lighting
Added new Slime Material for slime pools
Slime pools now damage the player
Added Pea Plants
Added sound effects for harvesting peas
Added sound effects for harvesting insulating slime



Progression:

Doubled Food Respawn Timer
Changed ingredients required for high capacity oxygen tank
Redistributed Oxygen Plants
Redistributed Geysers



General:

Made sure all debug commands are now disabled on shipping builds
Files
duckside-of-the-moon-win.zip
359 MB